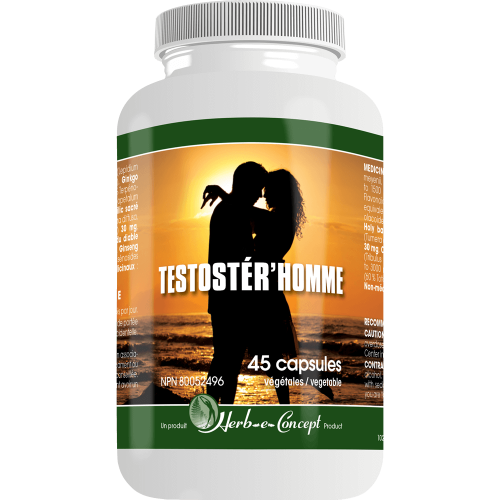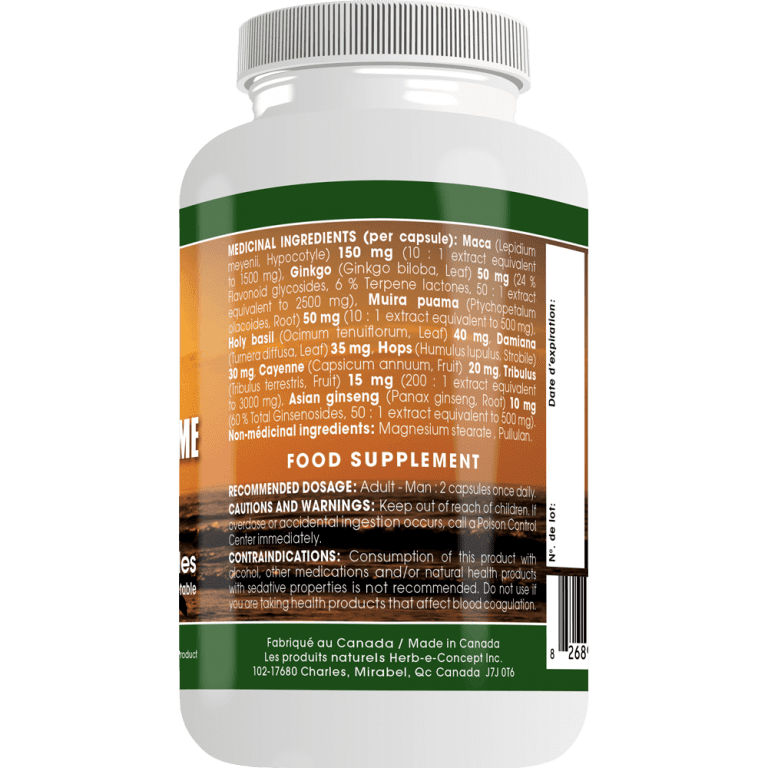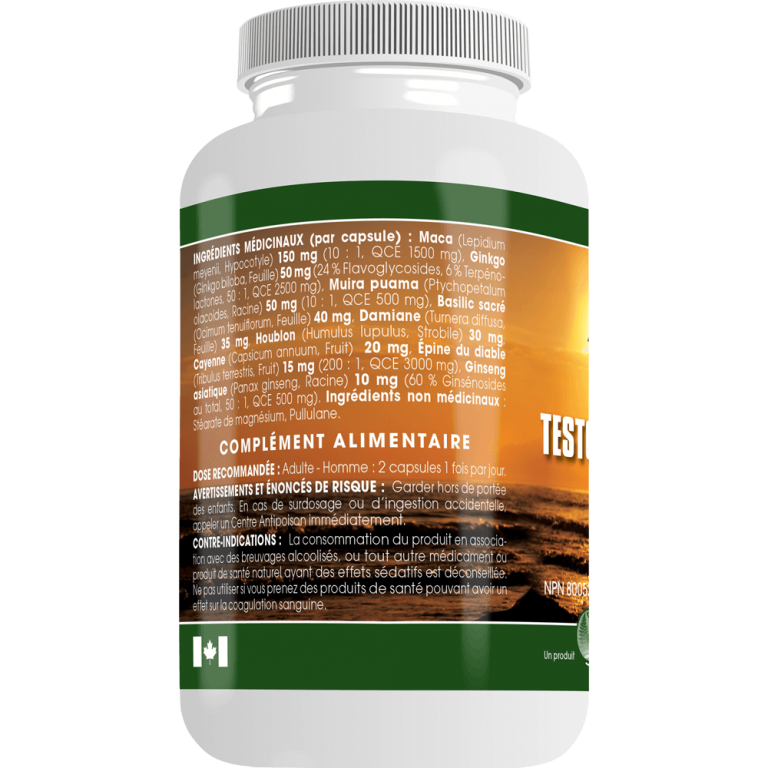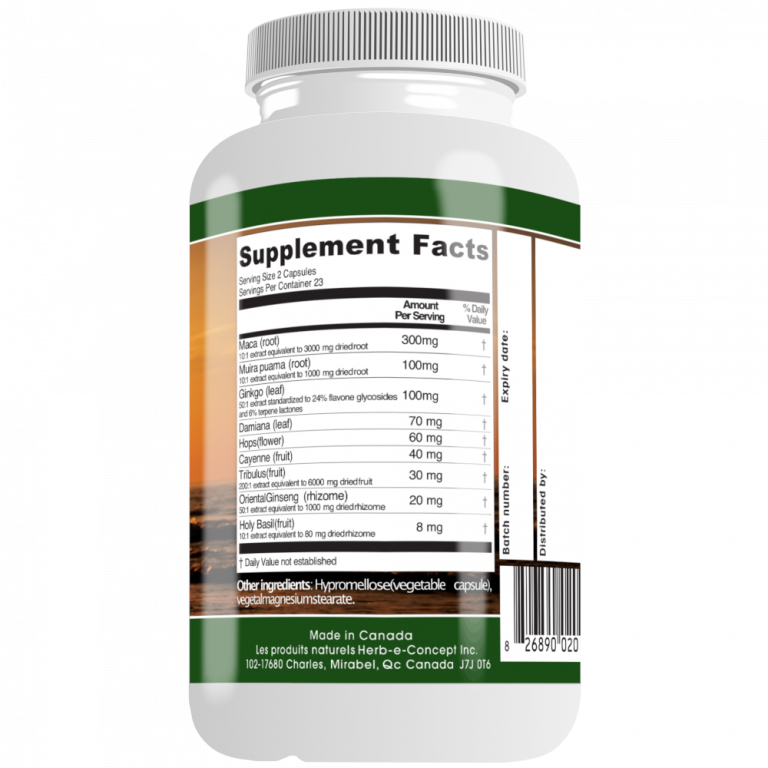 Testoster'Homme
$30.99
Testoster'Homme has been specially developed to meet the health needs of men. With its anti-stress, vasodilating, euphoric and energizing properties, this natural supplement can help to awaken the libido. It can also help to increase physical and mental endurance and promote optimal blood circulation.
Additional Information
Maca helps support the emotional aspects of sexual health.
Ginseng helps maintain cognitive function and/or reduces mental fatigue (in case of mental stress).
Ginkgo helps maintain peripheral circulation.
Tribulus is traditionally used in Ayurveda under the name Vrsya
(aphrodisiac) for men.
A formula that can help control the signs of andropause.
Maca 150 mg (Lepidium meyenil – Hypocotyl) 10: 1 Extract equiv. to 1500 mg.
Ginkgo 50 mg (Ginkgo biloba – Leaves) 24% flavonoid glycosides 6% terpene lactones
50: 1 Extract equiv. to 2500 mg.
Muira Puama 50 mg (Ptychopetalum olacoids – Root) 10: 1 Extract equiv. to 500 mg.
Holy Basil 40 mg (Ocimum tenulflorum – Leaf)
Damania 35 mg (Turnera diffusa – Leaf)
Hops 30 mg (Humulus lupulus – Strobile)
Cayenne pepper 20 mg (Capsicum annuum – Fruit)
Tribulus 15 mg (Tribulus terrestris – Fruit) 200: 1 Extract equiv. to 3000 mg
Asian Ginseng 10 mg (Panax ginseng – Root) 60% total ginsenosides – 50: 1 extract equiv. to 500 mg.
If you have stomach ulcers or inflammation, if you are taking anticoagulants (for example, anticoagulants, substitute treatment with coagulation factors, acetylsalicylic acid, ibuprofen, oily fish, vitamin E), digoxin, antidepressants or a drug for epilepsy, if you have diabetes, heart
If you have a psychological disorder or illness, such as frequent anxiety or depression, consult a health care professional before using.
Consuming the product with alcoholic beverages or any other medication or natural health product with sedative effects is not recommended.
Une vie sexuelle épanouie
S'il existe un sujet tabou, c'est bien celui de la dysfonction érectile. Et, pourtant, il s'agit d'un problème qui affecte la vie sexuelle de nombreux hommes. L'impuissance masculine peut survenir à tout âge, entraînant dans son sillage angoisse et anxiété de performance. Plusieurs facteurs influencent la capacité, ou non, de maintenir une érection : la maladie, la médication, les habitudes de vie, la dépression et même le stress. Heureusement, les troubles érectiles ne sont pas une fatalité. Une solution : Testostér'Homme. Grâce à sa formule à base de maca, ginseng asiatique, ginkgo et tribulus, ce complément naturel peut aider à réveiller la libido. Une excellente option pour aider à renouer avec une sexualité épanouie, quel que soit votre âge !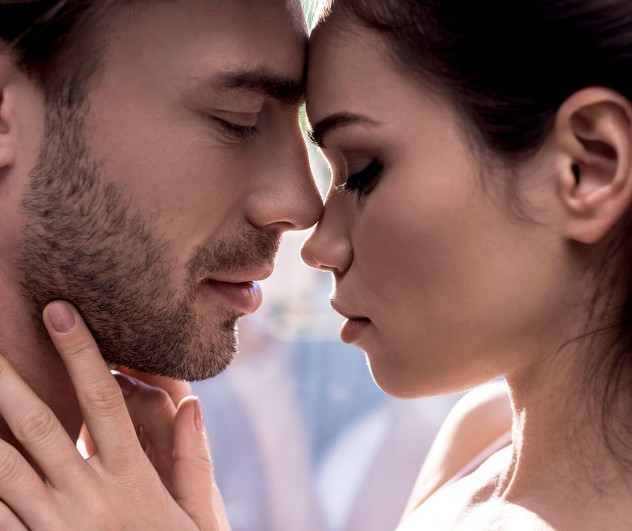 Freiner l'andropause naturellement
Les premiers signes de l'andropause apparaissent généralement au tournant de la cinquantaine. La baisse du taux de testostérone dans le sang occasionne un ralentissement de l'ensemble de l'organisme. Cela peut entraîner plusieurs inconforts, dont un dysfonctionnement érectile, une baisse de la libido, une diminution d'énergie, une prise de poids, de la fatigue et des difficultés de concentration. Avec le vieillissement, plusieurs hommes ressentent aussi le besoin d'uriner plus fréquemment, particulièrement la nuit.
Testostér'Homme offre une solution globale. Sa composition unique peut aider à soutenir la prostate et aider à contrer les symptômes physiques, sexuels et psychologiques liés à l'andropause. Combiné à un mode de vie sain, ce complément peut avoir un impact concret et favorable sur la qualité de vie !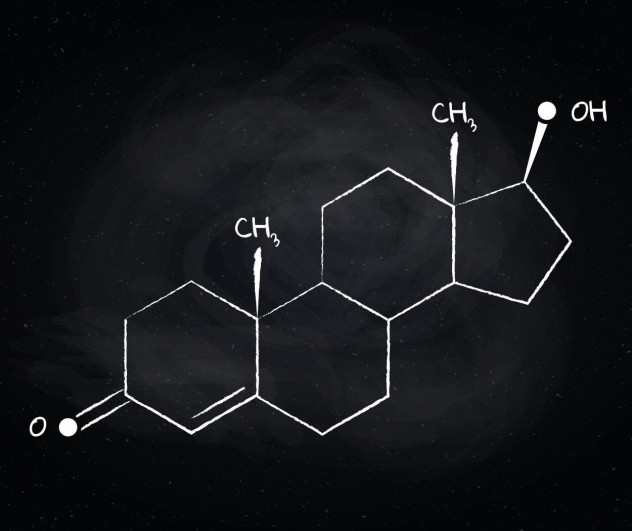 De nombreux bienfaits
Testostér'Homme peut répondre aux besoins spécifiques de la gent masculine. En plus d'aider à favoriser la santé sexuelle, ce complément peut aider au soutien des fonctions cognitives, aider à augmenter l'endurance physique et de contribuer à une circulation sanguine optimale. Il est constitué d'ingrédients 100 % naturels qui agissent à différents niveaux. On lui reconnaît des propriétés antistress, euphorisantes et énergisantes. Les hommes de tout âge bénéficient de ses nombreux bienfaits. Mais attention : ce n'est pas une « pilule miracle » à prendre à l'occasion. On recommande une consommation sur le long terme pour aider à améliorer la santé globale.