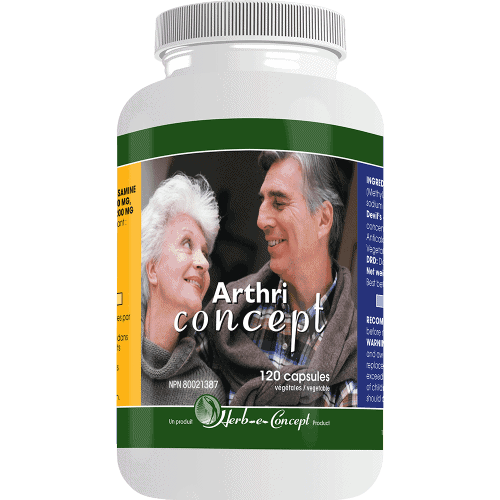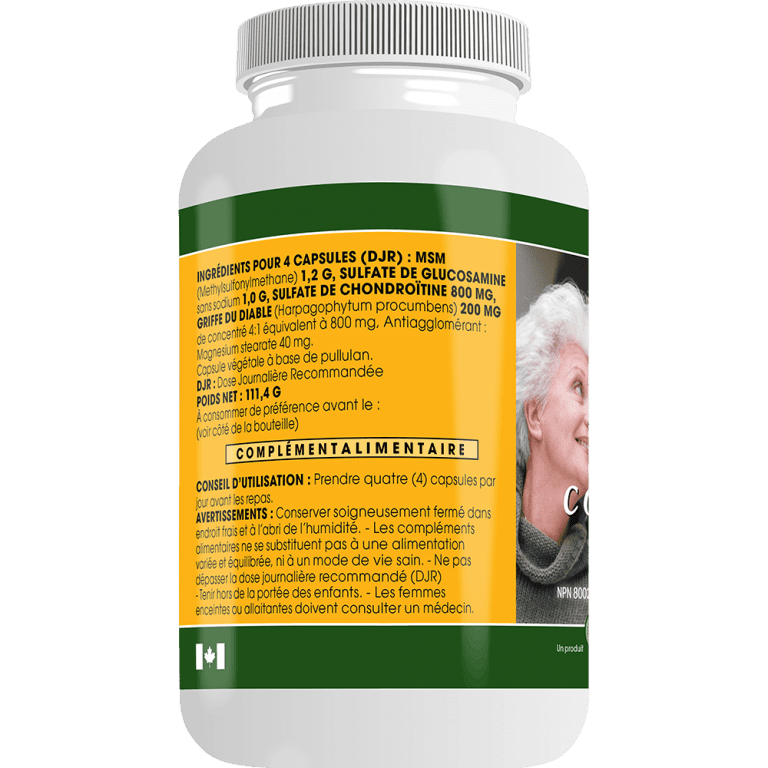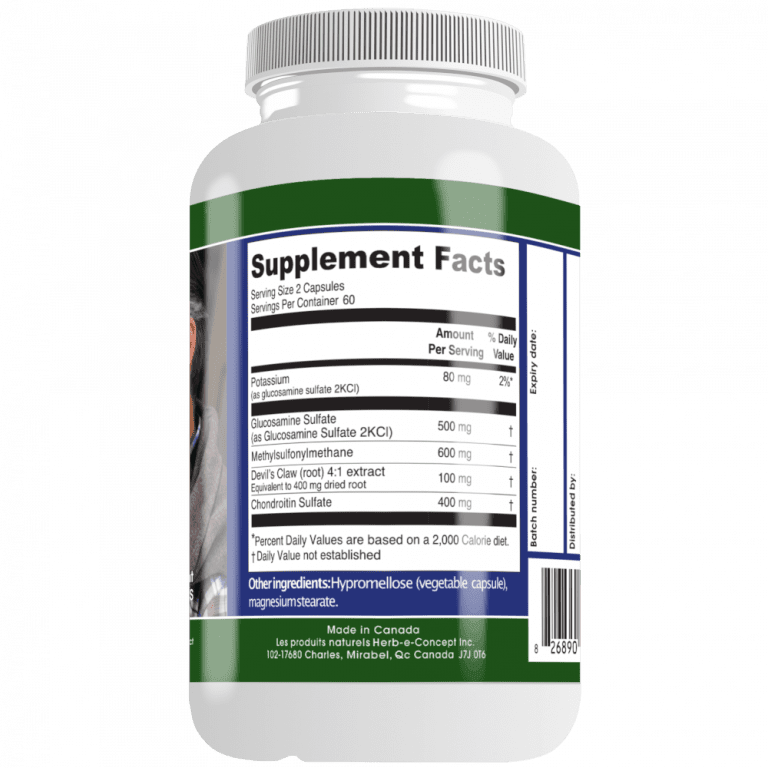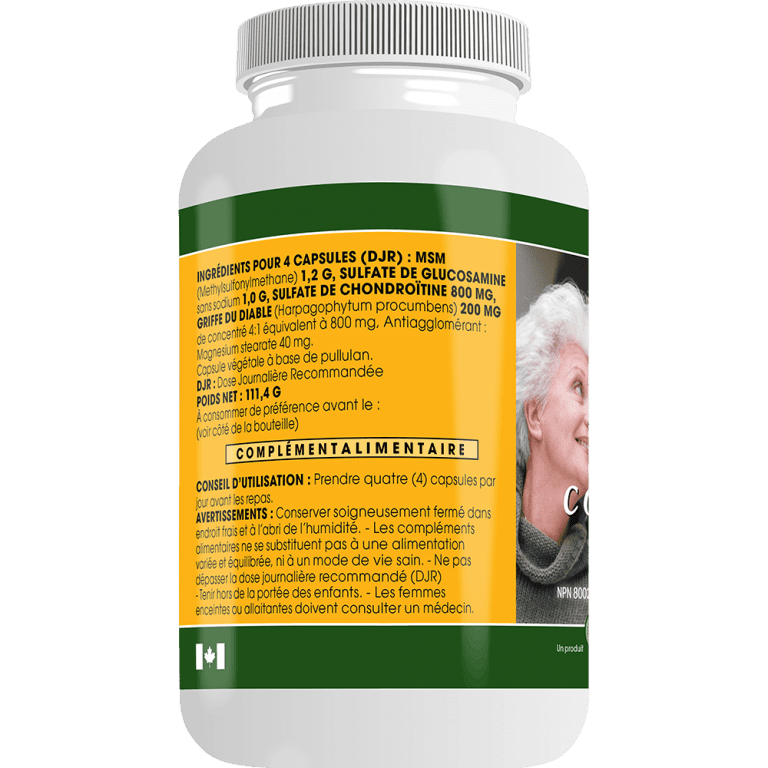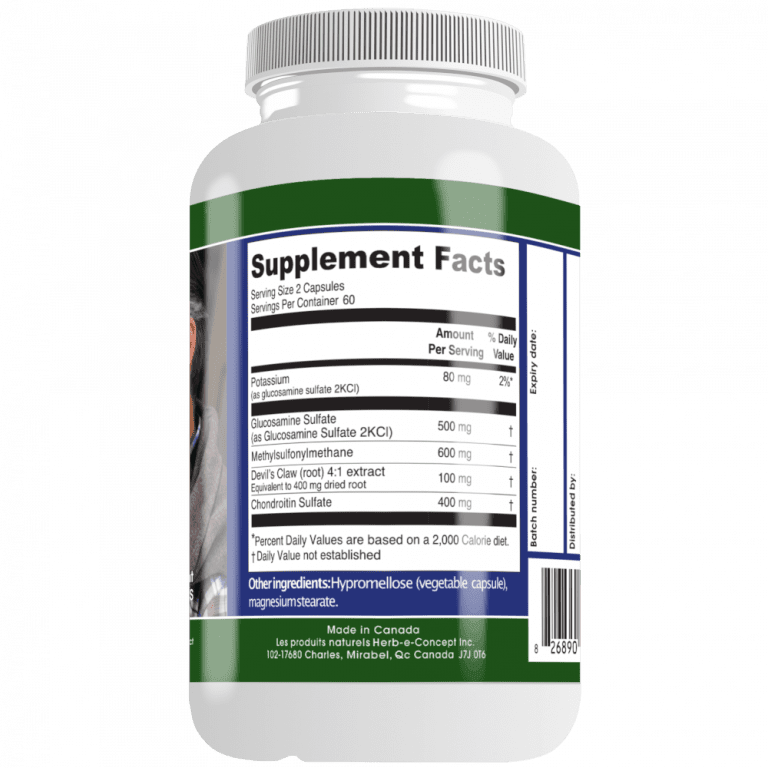 Arthri Concept
$30.99
Arthri Concept is a natural supplement that can help relieve joint pain and inflammation associated with osteoarthritis. It can help maintain the integrity of cartilage and healthy joints. It can also help soothe muscle pain. For an optimal combination, use it with Bam-Bü Silicium.
Additional Information
Glucosamine Sulfate
Relieves joint pain
Increases mobility
Regenerates joints
Assists in the synthesis of cartilage by promoting the incorporation of sulfur into cartilage.
MSM (Methylsulfonylmethane)
Maintains cartilage integrity
Reduces pain and inflammation
Provides nutritional support to joints
Reduces muscle spasms.
Devil's Claw
Relieves muscle pain
Relieves joint pain
Is anti-infllammatory.
Chondroitin sulfate
Helps relieve joint pain associated with osteoarthritis. Chondroitin is present in all cartilage. Chondroïtin supplements, extracted from bovine cartilage, help improve the resistance of our cartilage. The effect of chondroitin intake is felt after 2 to 4 weeks. According to clinical studies, chondroitin reduces the progression of osteoarthritis, which is why it relieves joint pain, especially knee pain. Studies have shown that by combining glucosamine with chondroitin, better results can be achieved. This duo is particularly effective as these two substances work in synergy to help repair cartilaginous tissue. Articular cartilage is composed of a dense extracellular matrix (ECM) with a sparse distribution of highly specialized cells called chondrocytes. The ECM consists primarily of proteoglycans and Type II collagens, inorganic minerals (including calcium and silicon) and water. Normal adult cartilage has a uniform porous network structure, which is formed in three stages:
Synthesis of the main components of the cartilage matrix. Chondrocytes use nutrients from synovial fluid to synthesize collagens (primarily Type II collagens) and proteoglycan.
Construction of the cartilage matrix structure. Collagen fibres consist of Type II collagen molecules and form a network called collagen network, then gelatin-type water-retaining proteoglycans and inorganic minerals entangled with the structure of the collagen network (see Figure 1).
Construction of the cartilaginous structure. Chondrocytes are not widely dispersed in the extracellular matrix, forming a characteristic porous network structure. With this structure, the cartilage of the human body is hard, flexible and elastic. Flexible and free movement of the joints benefits from the anti-pressure, damping, lubrication and shock absorption functions of the cartilage (see Figure 2, 3).
There is a benign interaction between chondrocytes and the cartilage matrix. The cartilage matrix anchors and provides nutrients to the chondrocytes, and the primary function of chondrocytes is to maintain the balance of the composition and decomposition of the cartilage matrix components. Chondrocytes can secrete various matrix degradation enzymes to degrade the old and damaged matrix, while cartilage can absorb the nutrients provided by the cartilage matrix and synthesize a new cartilage matrix to complete the degraded matrix through complex biochemical reactions. Balancing the synthesis of a new matrix with the decomposition of the old matrix allows the articular cartilage structure to remain intact.
Pathogenesis of osteoarthritis. Running, jumping over obstacles and other daily activities in young adults lead to degradation and wear of the cartilage matrix. At this stage, the chondrocytes repair the worn matrix by accelerating the synthesis of the new matrix and rebuilding the normal structure of the cartilage matrix. But in cases of aging (over 30 years of age), obesity, excessive exercise, heavy work, injuries, and lack of cartilage nutrition, chondrocytes are no longer able to fully compensate for the loss of Type II collagen fibres and proteoglycans, even at increased rates of synthesis. This means that the collagen fibers and proteoglycans break down, [there is] continuous mineral loss, and cartilage begins to crack, flake and deteriorate, cartilage begins to crack, flake and deteriorate, and various symptoms of osteoarthritis gradually occur. Chondrocytes are no longer able to completely compensate for the loss of Type II collagen fibers and proteoglycans, even at increased synthetic speeds.
Effective prevention of the prevention (sic) and treatment of osteoarthrosis. Nutrition and chondrocyte stimulation for the synthesis of a new cartilage matrix should be an effective way to correct osteoarthropathy. So, what are the essential nutrients for cartilage and joints? To get the answer, let's analyze the compositions and structures of the cartilage matrix in detail. The cartilage matrix is a porous network of collagen and proteoglycans. The main component of the collagen network is Type II collagen. Proteoglycans are composed of glycosaminoglycans and proteins. There are three main types of glycosaminoglycans: keratinsulfate, chondroitin sulfate and hyaluronic acid. A proteoglycan has a multi-brush structure. Hyaluronic acid and a series of small brushes form the stem and bristles of the large brush, respectively. The small bottle brush tree (the protein-glycan monomer) is composed of a central protein. Keratin and chondroitin sulfate form the front and rear part of the hairs of the small bottle brush, respectively. With the above knowledge, scientists have conducted numerous clinical studies and have concluded that the main dietary nutrients for feeding cartilage are: hydrolysed Type II collagen, glucosamine, MSM (methylsulfonylmethane), chondroitin sulfate, calcium, silicon and vitamin C. We call the dietary nutrients to feed cartilage chondroprotective agents.
These nutrients can be used to synthesize the corresponding components of the cartilage matrix that can be used by chondrocytes to reconstruct the complete structure of the cartilage matrix (see Table 1). The correspondence between dietary supplements, cartilage matrix and cartilage matrix structure. Osteoarthritis occurs when the cartilage that cushions the bones of the joints gradually deteriorates. In addition to cartilage degradation, osteoarthritis affects the entire joint. It causes bone changes and deterioration of the connective tissues that hold the joint in place and attach the muscle to the bone. Osteoarthritis is a degenerative disease that worsens over time and often results in chronic pain and inflammation of the joint mucosa. In non-operative treatment, the main goals are to reduce pain and improve function.
Non-steroidal anti-inflammatory drugs (NSAIDs) are the most commonly prescribed agents for pain and inflation management, but they focus primarily on the treatment of pain symptoms and do not regenerate the cartilaginous structure. It is clear from the scientific literature that NSAIDs from in vitro and in vivo studies in both animals and humans have a significantly negative effect on the cartilage matrix, resulting in accelerated deterioration of articular cartilage in arthritic joints. They also increase the risk of gastrointestinal bleeding and adverse vascular events.
Chondroprotective agents treat the cause of osteoarthritis, they not only relieve pain, but also help repair and regenerate cartilage structure, delay cartilage degeneration, and reduce gastrointestinal side effects compared to NSAIDs. In the long-term, unlike NSAIDs, they have an excellent safety profile, with as few adverse events as placebo.
How do we choose our products?
Arthri Concept and coral calcium (and Bam-bü silica) are recommended for older adults and patients.
Use collagen bamboo glucosamine and coral calcium for maintenance (age 40+).
MSM 1200 mg (Methylsulfonylmethane)
Glucosamine sulfate 1000 mg (sodium-free)
Chondroitin sulfate 800 mg
Devil's claw 200 mg (Harpagophytum procumbens) Conc. 4:1 equiv. to 800 mg. (For 4 capsules)
Some people may suffer from mild gastrointestinal bloating, constipation or indigestion.
Natural relief
Osteoarthritis is the most common form of arthritis and the risk of developing it increases with age. Cartilage can deteriorate for months, if not years, before symptoms are felt. The pain, stiffness and swelling increases, variously affecting the hips, knees, ankles, hands and spine. It impacts every aspect of a person's day-to-day quality of life.
For all men and women who suffer with osteoarthritis, Arthri Concept is a natural supplement of proven effectiveness.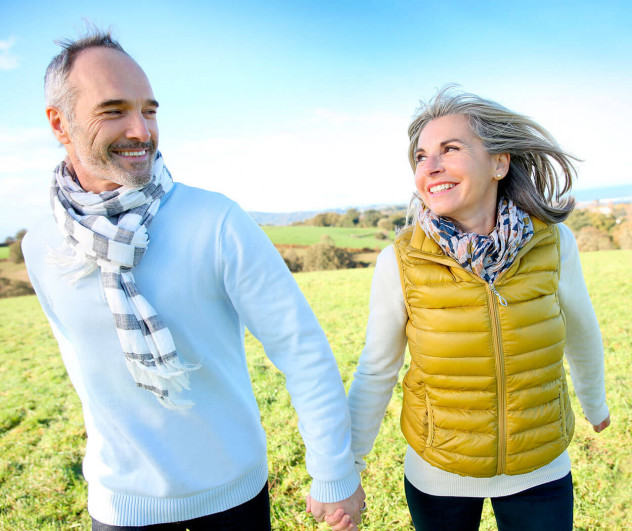 Anti-inflammatory properties
While osteoarthritis has no cure, its symptoms can be controlled. With its unique formula, Arthri Concept counteracts inflammation of the joint mucosa and relieves pain. Combining all the benefits of glucosamine, chondroitin, Devil's Claw and MSM, this supplement naturally promotes the formation of cartilage and connective tissue, while providing rapid relief. It also soothes sore muscles.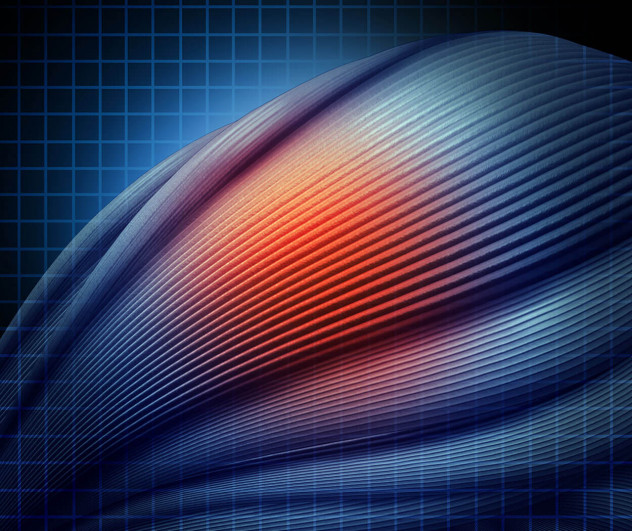 For a better quality of life
Mood disturbance. Sleep disorders. Mobility limitations. Isolation. Joint pain causes physical pain that disrupts daily life in many ways. What if, instead of restricting your activities, you could move like you used to and enjoy your favourite leisure activities?
Arthri Concept will help you discover a new approach to life and enjoy every moment to the full.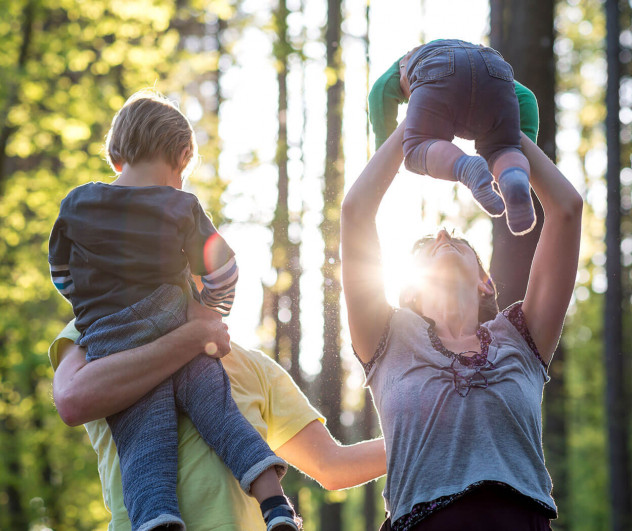 Developed for seniors
This natural supplement addresses the specific health needs of seniors. For an optimal combination, we recommend using it with Bam-Bü Silicium to foster cartilage repair, bone recalcification, mineral absorption and healing. Adults in their forties or so are advised to take Collagen Bamboo Glucosamine and Coral Calcium instead, supplements known for their effective prevention properties.
At Herb-e-Concept we are proud to accompany you through every stage of life!