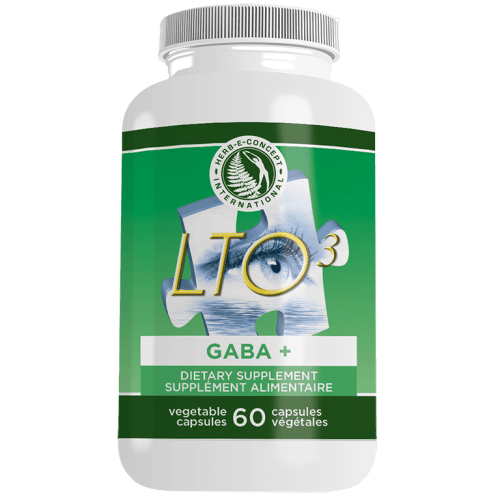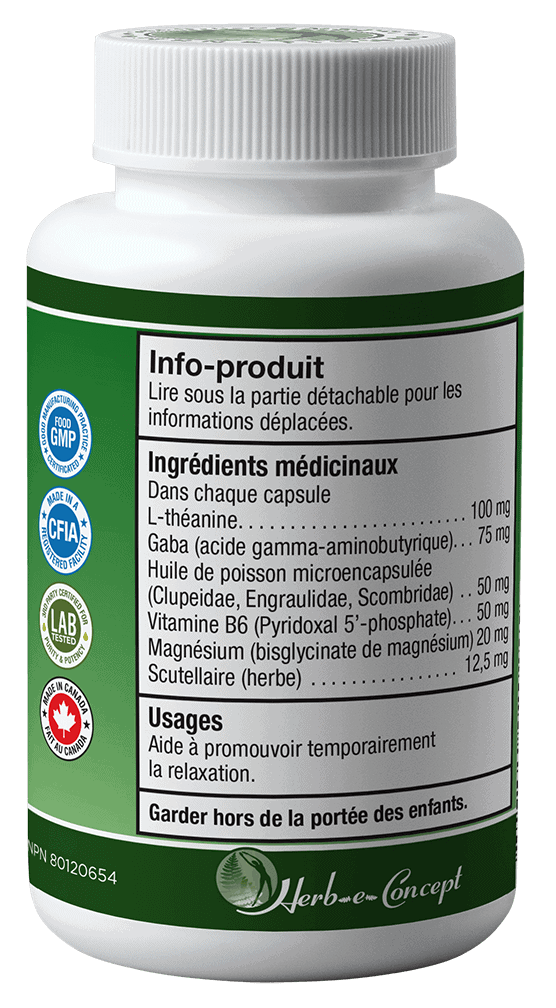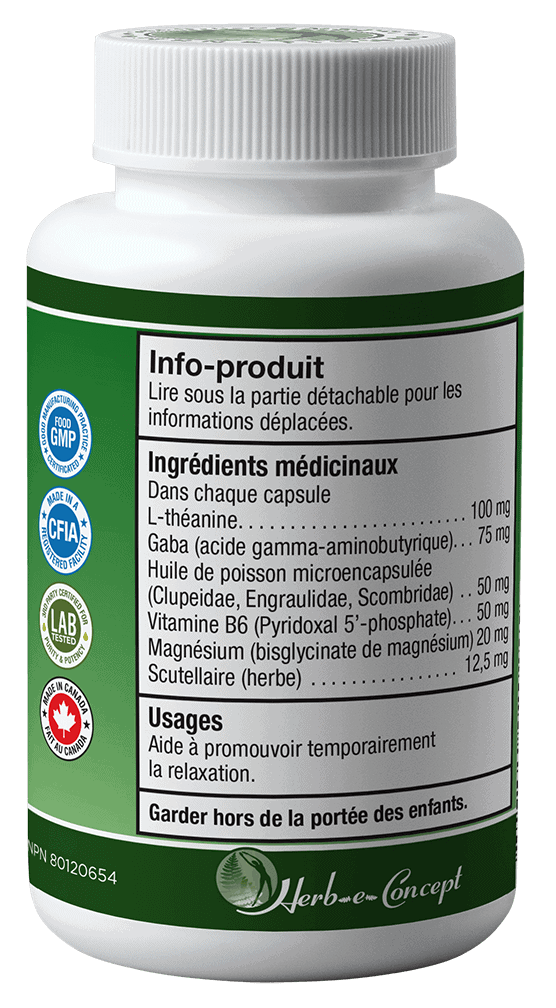 Additional Information
LTO3 Gaba+
Product works in approximately 40 minutes. Effect lasts 8 to 12 hours.
Intellectual Property License: CA1281MS1013
In Canada, LTO3 GABA+ has the NPN 80120654
LTO3 GABA+ has had no known adverse effects since its launch. It does not cause any addiction.
In most cases, the results are obtained from the first day, but it can take from 2 to 15 days to feel the positive effects.
L-Théanine, 100 mg

Acide 4 – aminobutanoique, 75 mg

Huile de poisson, 50 mg

Vitamine B6, 50 mg

Magnésium, 20 mg

Scutellaria lateriflora, 12.5 mg
Consult a health care professional if symptoms of nervousness/agitation persist or worsen. Use of this product in combination with drugs or natural health products with sedative effects is not recommended. Do not use if you are pregnant or breastfeeding. Some people may feel drowsy.
Testimonials
I would like to take this opportunity to thank you for the wonderful product LTO3 which a friend of mine from Ontario introduced to me a half a year ago. We live in southern Alberta, Lethbridge. My 17 year old boy and 14 year old boy were both on Ritaline and Aderall for their ADHD and Asperger syndrome. Both products agitated them and had numerous side effects. When putting them on LTO3 my sons tossed their Aderall pills within a week and have not looked back since. The product is amazing and I have told numerous people about it. Thank you again.
A mother from Lethbridge, Canada
I want to thank you big time. With this wonderful product, my 6 year old daughter went from an extremely difficult child to a totally normal child with her 6 year old attitude. Her relationships with other children and adults have improved 95% !
A mother from Drummondville, Canada
Fight Anxiety and Stress
LTO3 supplements have been developed to help improve cognitive health. They can help promote a temporary state of relaxation. LTO3 products are available in more than 20 countries and are popular with users around the world.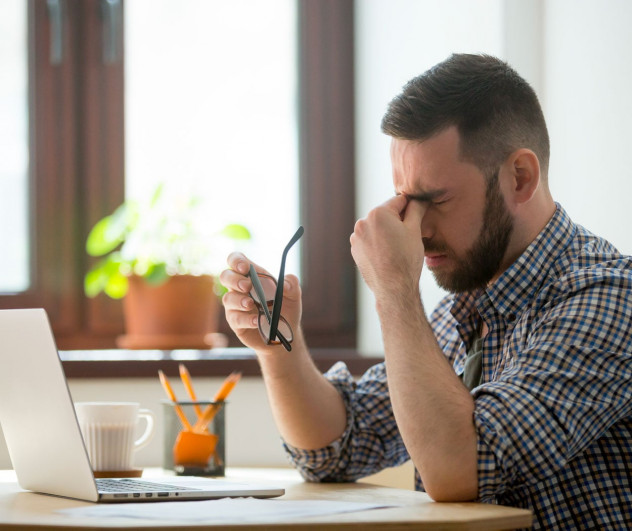 For Those Who Are Sensitive to the Taste of Fish
No Taste is particularly suitable to those who are sensitive to the taste of fish. This natural supplement has the same property as the original formula. It helps improve cognitive health and / or brain functions; it also helps reduce ADHD symptoms and manage anxiety, anguish and states of panic.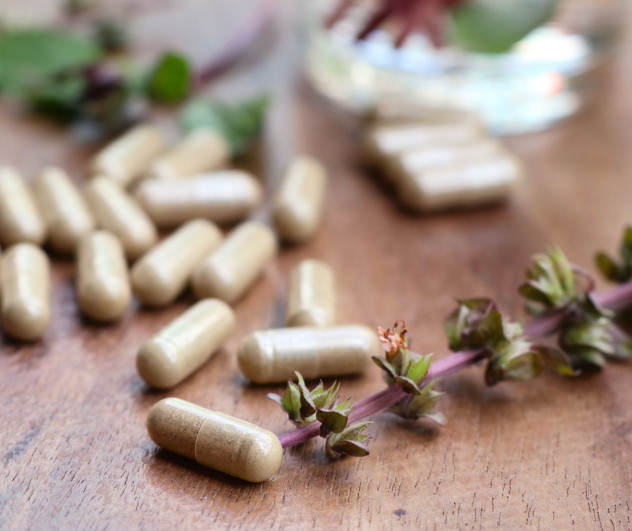 Especially for Children
LTO3 Junior helps promote a temporary state of relaxation, relieve nervousness and maintain immunity functions and the body capacity to metabolize nutrients. This natural supplement for cognitive health is suitable for children 5 years old and over. There is no side effect, and it does not cause addiction.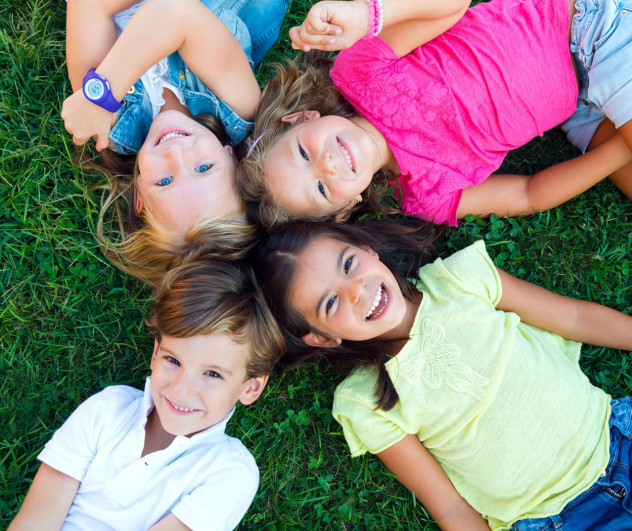 The Last Evolution of LTO3
LTO3 Plus combines the success of LTO3 Original with the performance of magnesium and vitamin B6 which can help maintain a high level of concentration and help reduce anxiety and stress. It can help increase muscle relaxation during stress and the ability to metabolize nutrients. It may also help maintain electrolyte balance. The supplement may also help improve cognitive health, brain function and reduce ADHD symptoms.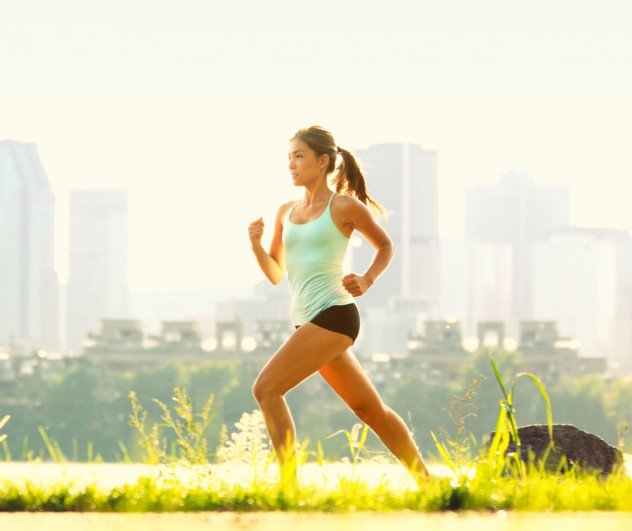 Frequently Asked Questions
Unlike all chemical drugs, psychostimulants and SSRIs, LTO3 has no side effects. It is a natural product that acts within 30 to 40 minutes, most of the time. In some heavier cases, it can take a few days, and in very heavy cases, up to 2 to 3 months to take effect, but it is extremely rare. We must allow time for natural ingredients to make their way into the body's biological balance.
Yes, you can open them and at this point we suggest the LTO3 without flavor. In 2 cm of water, apple juice or grape juice, obviously unsweetened, mix the contents of the capsules and swallow quickly followed by a full glass of the same liquid. You can also mix the contents of the capsules in applesauce without added sugar.
Omega-3 in LTO3 comes from SementisrnrnHerring Milt: The resources of the sea are immeasurable and lead us to make many happy discoveries. They have already provided us with important inputs to improve the health of our species, and the herring milt we are talking about here is a good example. First, what is milt? This is the term used to refer to semen spilled on ova expelled by female herring at the time of spawning. The eggs that result from this union are treated in the laboratory to become a cellular food, which is saying a lot.rnrnScientific Research: For the past thirty years, scientific research has become significantly more important in universities, private companies and for governmental organizations (project grants). ABK-Gaspésie, a subsidiary of Aqua-BioKem BSL inc, is the result of a research and development (Ru0026amp;D) project started at UQAR (Université du Québec à Rimouski) in 1996 by the parent company. ABK-Gaspésie, whose mission is to exploit marine biomass to produce high-quality neutraceuticals among other things, meets the standards of the Canadian Food Inspection Agency and is located in Matane.rnrnThe herring milt arouses the interest of this company which has developed an exclusive process to extract the bioactive components that will be used for the treatment of certain diseases. This interest has grown even more recently with new knowledge about the cell's DNA. In fact, milt may become a cellular food, but to do this, it must be treated in a laboratory and be highly polymerized to get as close as possible to human DNA.rnrnPrefabricated DNA: DNA, an essential constituent of the cell nucleus of our organism, is a protein that is constantly dividing itself to maintain a constant number of chromosomes in the living organism and it constitutes the biochemical substance of the hereditary characters. It plays an important role in the formation and regeneration of the human tissue.rnrnThus, a supply of prefabricated DNA such as herring milt can play this role and allow, among other things, tissue healing and repair of bone fractures. Also, during surgery, this supply accelerates healing of the wounds and a faster recovery.rnrnThe Sementis, its composition: From advanced research on herring milt results a product called Sementis with a high concentration of DNA, and a very high ratio of omega-3 / omega-6 fatty acids, phospholipids and taurine. Taurine would promote the penetration of CL ions inside cells and increase their polarization.rnrnMarine DNA would stimulate the immune system and have a high antioxidant activity. Omega-3 / omega-6 fatty acids and phospholipids are major constituents of cell membranes and are known to promote the transport of vitamins, hormones and other substances across the cell membranes.rnrnProperties: Therefore, in addition to the protective and regenerative properties mentioned above, it is necessary to add anti-aging, immunostimulating and antioxidant properties. The base composition of the Sementis complex is complemented by polypeptides with a balanced amino acid profile and antioxidants such as vitamin C, zinc and selenium, which make it a high quality dietary supplement.rnrnMore specifically, this biological value added to the basic elements would have healing properties particularly on neuropsychic apathy, osteodystrophy, pulmonary elasticity disorders, cardiac disorders, digestive atony, psychic or physical fatigue and on the development of intellectual faculties in patients with delay.rnrnAn ally for the body: It is known that the body is constantly attacked by free radicals and oxidants due to normal daily activities; this causes damage to the cell and DNA and thus causes health problems, including cancer, and cardiovascular, neurodegenerative and immune diseases.rnrnTaking a pharmaceutical antioxidant such as Sementis helps the human body maintain the balance between the production of free radicals and that of antioxidants produced by the body. Several clinicians and doctors have used it and confirm its antitumor action and its great interest in chemotherapy and radiation. It also actively protects the human cells.rnrnIn addition to this high efficiency, it was also found that this cellular superfood had no side effects and that most subjects tolerated it easily. It should be noted that Sementis is made only from wild Atlantic herring. Wild Atlantic herring contains twice as much omega acids as farmed fish.rnrnOmega-3 and omega-6 fatty acids are not produced by the body and our diet is deficient in this respect. Knowing this fact and the usefulness of these acids for the brain, liver and blood circulation, it appears that their consumption in the form of supplement is very beneficial for the health of our body.rnrnArticle written by Louisette Filion, journalist with the newspaper L'ÉMERAUDE PLUS.
Like all natural products, LTO3 contains ingredients that can interact with what we eat in our diet. To be fully effective, LTO3 must be taken on an empty stomach and must be given time to be absorbed by the small intestine. If the ideal time is one hour, a minimum of 20 minutes is desirable. However, we understand that it may be difficult for young parents to give LTO3 to a child as soon as he wakes up and wait 20 minutes to wash and dress him before breakfast.rnThe presence of certain ingredients can reduce the action of LTO3. Sugar, acidic fruit juices and dairy products can alter the effect of LTO3 if taken at the same time. That's why it's important to make sure there is a reasonable amount of time between taking the LTO3 supplement and eating breakfast.rnThis may be an opportunity to rethink the composition of breakfast. Indeed, many experts question the validity of a u0022milk-cereal-fruit juiceu0022 breakfast. It contains too many fast-acting carbohydrates, so the child lacks energy and is hungry again at 10 a.m. A breakfast consisting of ham/turkey or chicken, whole-grain bread, egg, vegetable milk (almond, cashew, etc.) and low-acid fresh fruit would provide better balance. If you eat breakfast shortly after taking LTO3, you can always add an extra capsule of LTO3 to compensate.